Dosti brings performances, workshops, street studios, and public sound installations to schools and community centers around the US. The work Dosti Fellows present is completely original and created in collaboration during our residency. Fellows also record and present with local musicians and partners in each host city to craft meaningful events for young people, students, and people in the community.
New Smyrna Beach, FL | Atlantic Center for the Arts | event page
This concert — which is free and open to the public — will mark the end of the second week of residency for the Dosti Music Project. Held in the main gallery at the Atlantic Center for the Arts, the show will offer a look into the ongoing collaboration between the 10 Dosti Fellows, in preparation for their tour the following week.
Orlando, FL | Timucua White House | event page
The Dosti Music Project returns to the stunning Timucua White House in Orlando for a second year. This concert will make use of the space's multi-tiered balconies, breaking down the traditional stage set-up and bringing the music to life from within and all around the audience. The event is free, and contributions to the potluck are encouraged!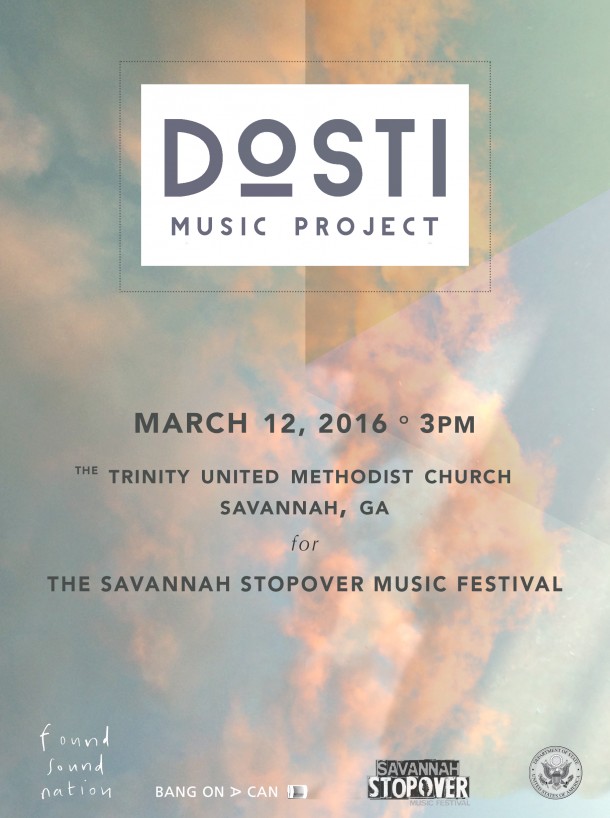 Saturday, March 12 at 3pm
Savannah, GA | Trinity Church for Savannah Stopover Music Festival | tickets * | event page
Dosti comes to the acclaimed Savannah Stopover Festival, a popular stop for bands touring down to South By Southwest in Austin. This multi-day festival features some of the brightest sounds in indie rock and pop and this year will present a special showcase of the Dosti Music Project, injecting a dose of our unique blend of qawwali, electronica, and folk music into the mix.
* A limited number of tickets will be available at the door.
Chattanooga, TN | Bessie Smith Center | tickets | event page
The final concert of the Dosti Music Project 2016, this performance at the Bessie Smith Cultural Center in Chattanooga – hosted by Gig City Productions – is sure to be a special one. The space will be transformed into a cozy living environment, and audiences will be treated to an intimate one-of-a-kind performance — as well as delicious food from Sitar Indian Cuisine. We invite you to join us in the culmination of this incredible project and hear the songs and stories created by the 10 Dosti Fellows over the course of one unforgettable month.